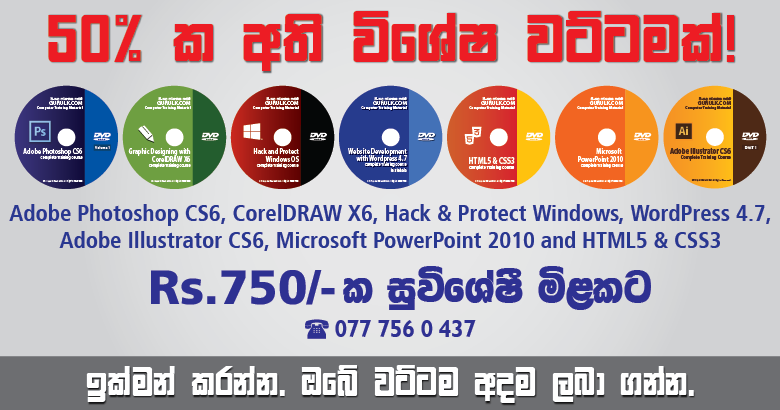 Search for Sinhala video computer lessons, videos, Flash Demos, audio tutorials, softwares, fonts and other useful educational materials using our search utility:
---
Please express your thoughts about GURULK project
---
Displaying: 451 - 460
Total Messages: 663
---
Date and Time:
Monday 18th of April 2011 08:44:34 AM
Message:
Hi, Actually, as a Sri Lankan, im proud to see a site like this... You people are doing a really great job in here! Keep it up my friends. Hope you'll be able to expand this site and make it useful even to the international community. In that way, you can take the name of our country to the world! As a web designer, need to give you a small advice... Try to reduce the ads and make the site more organized! :D Anyway.. wish you all the best guys! ඔබ සැමට සුභ අළුත් අවුරුද්දක් වේවා!
---
Date and Time:
Sunday 17th of April 2011 01:25:42 AM
Message:
can u give us about hacking lessons.
---
Date and Time:
Friday 8th of April 2011 03:32:50 AM
Country:
United Arab Emirates
Message:
i need laptop erpeiring book
---
Date and Time:
Friday 1st of April 2011 02:01:46 AM
Message:
It's really Intresting to study. Thanks a lot & best of luck
---
Date and Time:
Sunday 27th of March 2011 09:56:30 PM
Message:
oylage me wade nam niyamai.mama java igena gatte oyalage tutoriyal walin.pic programing gana sinhala tutorial danna puluwan nam loku deyak.
---
Date and Time:
Saturday 26th of March 2011 09:41:16 PM
Message:
this project is very important for us
---
Date and Time:
Friday 25th of March 2011 11:19:43 PM
Message:
වැඩේ නම් නියමයි..... !!. කියල වැඩක් නෑ...කාලෙකට පස්සෙ ආපු වැදගත් සිටෙ එකක්. ගොඩක් ප්රනයොජනවත් වෙනව.දන්න භාෂාවෙන් ලේසියෙන් ඉගෙන ගන්න පුලුවන්නෙ.. AJAX ගැනත් සලකා බලල Videos ටිකක් Upload කරමු හොදේ.. ජයවේවා...!!
---
Date and Time:
Tuesday 22nd of March 2011 09:42:20 PM
---
Date and Time:
Saturday 19th of March 2011 01:29:02 AM
Message:
notebook walata windows install karana specical system ekak tiyanawanam kiyala denna
---
Date and Time:
Thursday 17th of March 2011 09:07:50 PM
Name:
Chandana K Jayathilake
Message:
Mahesh, you have done fabulous task which is very helpful for sinhala Internet users to uplift their ICT knowledge. this site is recommended by Senani one of our staff member @Wayamba University. In my free time i\'m also like to participate your team to strengthening this task. Regds, Chandana K Jayathilake
---