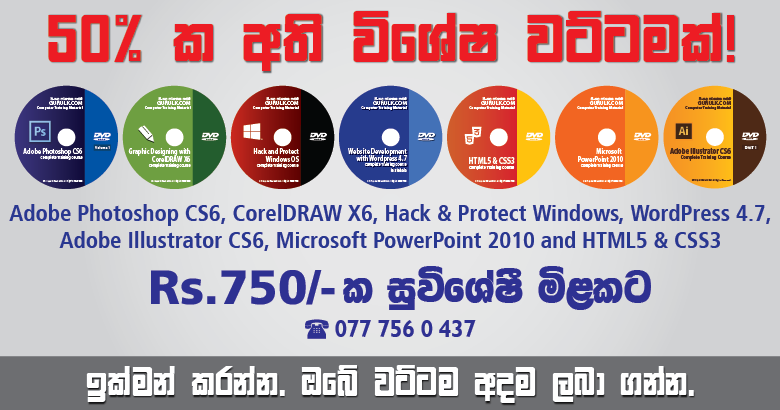 Search for Sinhala video computer lessons, videos, Flash Demos, audio tutorials, softwares, fonts and other useful educational materials using our search utility:
---
Please express your thoughts about GURULK project
---
Displaying: 401 - 410
Total Messages: 663
---
Date and Time:
Monday 15th of August 2011 12:04:59 AM
Message:
very nice and useful website. but the sad news is most of the sri lankans don't want this type of a website.if someone create a site with gossip about actress then they will became first. i dont know waht happen to these people.
---
Date and Time:
Friday 12th of August 2011 12:13:49 AM
Message:
මෙම පාඩම් මාලාව කම්පියුටර් පිලිබද ඉගෙන ගැනීමට කැමති ඕනම පුද්ගලයෙක්ට ඉතාමත් ප්‍රයෝජනවත්වේ. අපට නිතරම අන්තර්ජාලය සමග සම්බන්ධ වීමට නොහැකි නිසා එම පාඩම් මාලාව ලබාගතහැකි ක්‍රමයක් ලබාදෙන්නේ නම් ඉතාමත් වැදගත්වේ.
---
Date and Time:
Wednesday 10th of August 2011 04:07:05 AM
Message:
I like this web side
---
Date and Time:
Tuesday 9th of August 2011 09:29:54 PM
Message:
Aththatama hita gannath be me wage web site ekak gana, itama prayojanawath, thank you so mach...
---
Date and Time:
Monday 8th of August 2011 09:04:16 PM
Name:
Samantha Pathiranage
Message:
i like very much your web site. please add more After Effects lessons & Photoshop, Illustrator. Maya , lessons. Thanks for your job. This is great.
---
Date and Time:
Saturday 6th of August 2011 09:27:20 AM
Message:
Great work.. I watched joomla tutorials... It's great.... you are doing a good job... Thanks for sharing your knowledge...
---
Date and Time:
Wednesday 3rd of August 2011 11:43:30 AM
Name:
chandana gunarathna
---
Date and Time:
Wednesday 3rd of August 2011 11:41:20 AM
---
Date and Time:
Wednesday 3rd of August 2011 06:56:42 AM
---
Date and Time:
Sunday 31st of July 2011 01:59:04 AM
Message:
Dear Sir, Please explane how to create my own web site. (simpley) Ee-: What is Joomla Thank You
---