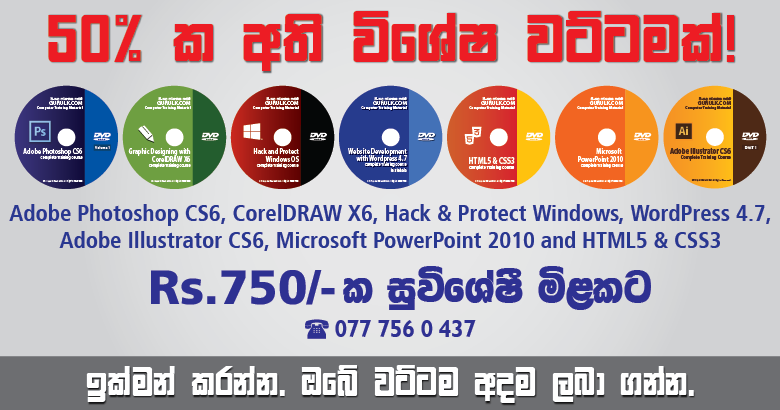 Search for Sinhala video computer lessons, videos, Flash Demos, audio tutorials, softwares, fonts and other useful educational materials using our search utility:
---
Please express your thoughts about GURULK project
---
Displaying: 381 - 390
Total Messages: 663
---
Date and Time:
Wednesday 5th of October 2011 08:27:13 AM
---
Date and Time:
Tuesday 4th of October 2011 01:50:39 AM
Message:
Godak hoda wadak, niyamai... kiyanna wachana nathi tharam ...... good luck
---
Date and Time:
Monday 3rd of October 2011 12:22:29 PM
Name:
Rev. Aregama Sirisumana
Message:
First of all I would like to wish you all the best, also I like to ask you to continue your valuable service. I learned a lot from your website. Thank you for your service and may triple gems bless you. Bhante Sirisumana
---
Date and Time:
Sunday 2nd of October 2011 01:05:31 PM
Message:
i like this site
---
Date and Time:
Thursday 29th of September 2011 01:18:46 PM
Message:
me web site eka niyamai. mama hoya hoya hitapu website ekak. mata podi udawwak karanna puluwanda. mage thiyenne SLT eken gaththa Broadband connection ekak. me connection eken samahara website walata yanna be. ex: www.tripleclicks.com hebei wena connection ekakin (dialog dongle eka) yanna puluwan. meka router eke problem ekakda? eke settings wenas karala meka hadanna puluwanda? mekata pilithurak e-mail karanna puluwanda? THANK YOU
---
Date and Time:
Thursday 22nd of September 2011 07:56:51 AM
Message:
First of all I thanks to GURU.LK which is provide a great service for all IT people and especially beginners.this is a very good and really useful for all of us.I kindly request to present ASP.NET based on C# language video tutorials very soon.I wish you all the best and Good Luck!!!
---
Date and Time:
Wednesday 14th of September 2011 08:37:10 AM
Message:
i want ccna discovery 4 video lesson and modal paper
---
Date and Time:
Monday 12th of September 2011 10:59:28 AM
Name:
nalaka pushpakumara
Message:
how to earn internet money. we like to study about more
---
Date and Time:
Monday 12th of September 2011 04:35:00 AM
Message:
please present BIT programs eg:-computer system mathemathics for fomputing
---
Date and Time:
Saturday 10th of September 2011 12:10:24 AM
Name:
sujeewa Priyadharshani
Message:
Very good knowledge us
---