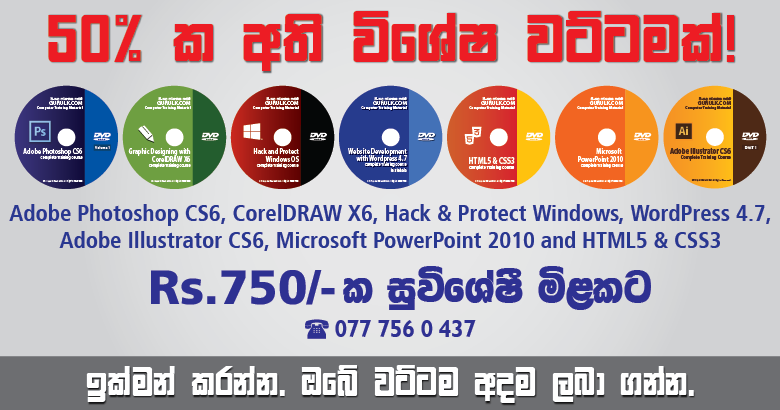 Search for Sinhala video computer lessons, videos, Flash Demos, audio tutorials, softwares, fonts and other useful educational materials using our search utility:
---
Please express your thoughts about GURULK project
---
Displaying: 311 - 320
Total Messages: 663
---
Date and Time:
Thursday 22nd of March 2012 03:02:47 PM
---
Date and Time:
Wednesday 21st of March 2012 09:05:25 AM
Message:
Obalage meme web aka etha hoday. meme padam malawata thawa electronic padam malawac laba dennenam aya wadagath wanu atha. hakinam ayata awasthawak laba dena lesa karunikawa ella sitimi. me pilibadawa api kalin wathawak obawetha yojanawak karanaladath a pilibadawa kisima prathicharayak nomathi wima pilibada api kanagatuwa palakara sitina athara ehatha karunata salakillak dakwannenam thanks wemu.
---
Date and Time:
Friday 16th of March 2012 09:54:19 AM
Message:
This is very good web site for our knowledge for sinhla Medium. Good feature at the use client the this web site.
---
Date and Time:
Wednesday 14th of March 2012 06:37:35 AM
---
Date and Time:
Wednesday 14th of March 2012 06:34:37 AM
---
Date and Time:
Sunday 11th of March 2012 02:16:00 PM
Name:
chamara wickramasinghe
---
Date and Time:
Sunday 11th of March 2012 12:34:41 PM
Message:
මෙය ඉතා හොද දෙයක් ලෙස පලමුව සදහන් කල හැකියි ඉංග්රීාසි නැතව පරිගනක විෂය හදාරන්න බැහැකියන බමුණු මතය බිදහෙලන්න ගත්ත කදිම උත්සාහයක් මෙය වඩාත් ප්රනචලිත කිරීම තූලින් සමාජයට යහපත.් වන නිසා එවැනි උදාර කාර්යක නියැලෙන ඔබ සහ ඔබගේ සහය ක/ණ්ඩායමට හෘදයාංගම ස්තූතිය මෙයින් පුද කරමි. ගාමිණි
---
Date and Time:
Friday 9th of March 2012 11:26:11 AM
Name:
PATHIRAJA SURAWEERA
Message:
WOW niyamai mewage lankawe site ekak dakalama naha JAYASRI gurulk,com
---
Date and Time:
Wednesday 7th of March 2012 07:00:35 PM
Message:
ඉතා අගෙයි මම සුබ පතනවා මා විසින් වීඩියෝ පාඩමක් ඔයාලාට ලබාදෙන්නේ කෙසේද
---
Date and Time:
Sunday 4th of March 2012 02:47:18 AM
Message:
Obalage meme web aka etha hoday. meme padam malawata thawa electronic padam malawac laba dennenam aya wadagath wanu atha. hakinam ayata awasthawak laba dena lesa karunikawa ella sitimi
---