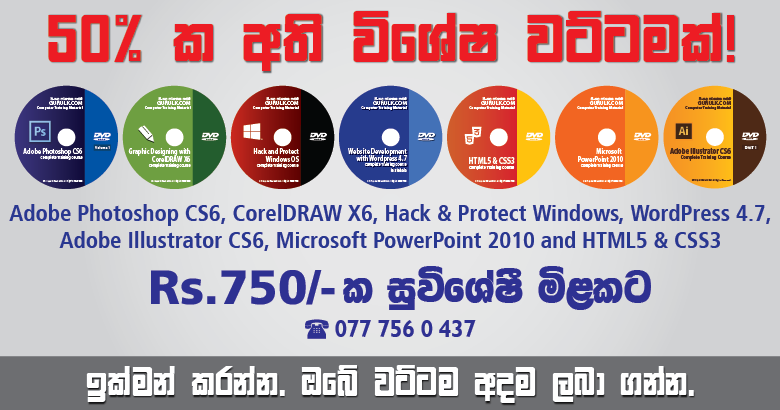 Search for Sinhala video computer lessons, videos, Flash Demos, audio tutorials, softwares, fonts and other useful educational materials using our search utility:
---
Please express your thoughts about GURULK project
---
Displaying: 11 - 20
Total Messages: 663
---
Date and Time:
Saturday 22nd of April 2017 03:12:20 PM
Message:
I would like to consider the opportunity of saying thanks to you for that professional suggestions I have enjoyed going to your site. I am looking forward to the particular commencement of my college research and the complete prep would never have been complete without coming to your web site. If I may be of any assistance to others, I would be happy to help by way of what I have learned from here.
---
Date and Time:
Monday 3rd of April 2017 09:55:29 PM
Name:
GraceSab GraceSabCN
Message:
Absolutely NEW update of SEO/SMM package "XRumer 16.0 + XEvil 2.0": captchas recognition of Google, Facebook, VKontakte, Yandex, Solve Media, and more than 8400 another subtypes of captcha, with highest precision (80..100%) and highest speed (100 img per second). You can connect XEvil 2.0 with all most popular SEO/SMM programms: XRumer, GSA SER, ZennoPoster, Srapebox, Senuke, and more than 100 of other software. Interested? Just Google for "XRumer 16 + XEvil 2.0", or you can find intro movie in YouTube: "XEvil: new OCR - captcha solver" Good luck ;)
---
Date and Time:
Tuesday 7th of March 2017 07:02:44 PM
Message:
REST API ගැන වීඩීයෝ පාඩම් මාලාවක් කරන්න..
---
Date and Time:
Tuesday 14th of February 2017 09:31:26 AM
Name:
Williamjesk WilliamjeskEE
Message:
Hello. I need to contact admin. Thank you.
---
Date and Time:
Tuesday 27th of December 2016 12:32:16 AM
Message:
have you any pdfs plz give me links
---
Date and Time:
Sunday 25th of December 2016 09:11:22 AM
---
Date and Time:
Wednesday 21st of December 2016 01:47:11 AM
Message:
I bought Adobe Photoshop CS 6 and CorelDRAW X6 from gurulk.com. I had no any basic knowledge about this. But happy to say,it was easy to catch. All lessons are very valuable.Now I don't want to waste my money and time. Everyday I visit gurulk.com.Because I know I can learn new things everyday. I got the correct path. Highly appreciate your work. May you have the courage and strength for giving more and more good lectures for us.
---
Date and Time:
Monday 12th of December 2016 12:19:37 PM
---
Date and Time:
Tuesday 27th of September 2016 06:27:34 PM
---
Date and Time:
Wednesday 7th of September 2016 01:44:04 AM
Message:
Great work. Thanks a lot.
---